Shoah Memorial in Drancy
Shoah Memorial in Drancy
Texte
70 years after the start of the deportation of the Jews of France towards nazi extermination camps, the Shoah Memorial inaugurated in September 2012 at Drancy, a new space destined for the history and education of the period, opposite the Cité de la Muette. The project came about on the initiative and thanks to the financial support of the Foundation for the Memory of the Shoah. The center's mission is to present the history of the Drancy camp.
Texte
Built as a collective living space in the 1930s but never finished, the Cité de la Muette became an internment camp in 1941, and then in 1942 a regroupment camp for the Jews of France in preparation for their deportation towards extermination camps. Between March, 1942, and August, 1944, approximately 63,000 of the 76,000 Jews deported from France went through Drancy.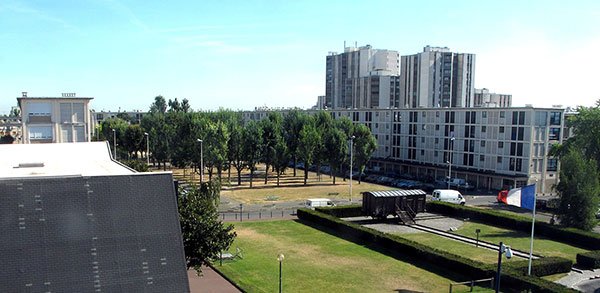 Texte
The memorial which has been constructed on a stretch of land graciously donated by the municipality of Drancy, was designed by the Swiss architect Roger Diener as a building that should be sober and dignified.
The memorial is made up of 5 levels: a conference room in the basement, reception spaces on the ground floor, educational rooms in which to receive groups, and a documentation center.
A permanent exhibition, to which the filmmakers Patrick Rotman and Dephine Gleize have contributed, retraces the history and function of the camp as well as the daily lives of those interned there.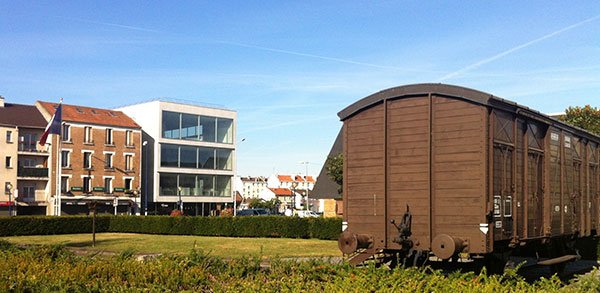 Texte
Shoah Memorial, Drancy
110-112 avenue Jean-Jaurès
93700 Drancy
France
Tél : +33 (0)1 42 77 44 72
Email : contact@memorialdelashoah.org
Free admission
Opening hours : 10 a.m. to 6 p.m. every day except Friday en Saturday. Closed in August.
The Paris-Drancy shuttle bus and free guided tour every Sunday.